Firstly - Vinnie's new family fundraising blog is:
http://sheffieldadoption.blogspot.com/
Secondly - I will be doing my future blog posts on my own family/adoption blog for awhile:
http://breezysunday.com/blog
On to a cross post with my family blog to get you going!
Something that fundraising for Vinnie has made more real for me is the REALness of the children on Reece's Rainbow. Of all waiting children. Of orphans. Of men, woman, and children, of families… in need. In distress. Vinnie is a real, live boy. A real live child that I stood within a hundred feet of, divided only by a few walls. Maybe he even looked out the window at us. It was my own camera that was permitted to take photos and videos of him. It was my own heart that grieved the loss when we declined to adopt him.
Why did I grieve?
Because he is real.
And he isn't getting younger. And he has never had a mommy or daddy. Time is not waiting for him. He needs somebody NOW. PRAISE GOD, a family is going to cross the ocean and bring him home!!! Oh my goodness, that just thrills me to my core!
I didn't plan on advocating for another child after Vinnie. My kids keep me busy. I am also preparing to bring home our son. But as soon as I considered that Vinnie had a family coming for him, my heart turned to a little boy named Valenz. Valenz. He's in the same country, he's 4 1/2 years old, and he has so little going for him.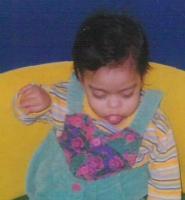 His profile was received by Reece's Rainbow's partner agency at the same time as Vinnie's. At one time, a family had committed to adopt him (and Vinnie! And two others; Oh my!) That family had to back out. That was months and months ago. And Valenz is without a family. Without a story. Without somebody able to take photos and videos. We only have two partial pictures of him. And he's six months older than Vinnie. Is he too OLD at four?! He only has $10 dollars in his grant. That won't even take our small family out to lunch.
That he is forgotten breaks my heart.
Even if a grant is not raised for him, even if he is never adopted… I am going to perform one honor for him.
I am not going to forget him.
Join with me in praying for him. Step forward to be his prayer warrior. I am stepping up to be his
Christmas Warrior
. Starting today, if you donate $35 or more to
Valenz's grant
, you'll receive a beautiful Christmas tree ornament in the mail with his photograph on it. Remember him throughout the Christmas season… the season of loving others!
Click on our
Angel Tree page
for more details.
I'll be blogging about Valenz once a week until December 31st!